Click on any picture below to see a larger version
9/08/2015 - Today was the fourth day of our Cyclomundo Bicycle Tour -
Challenging Piedmont: The Realm of Italian Legends
Below is the suggested cycling route for the day:
Asti — Torino — Asti (120.8 km/75.1 miles, 1,590 meters/5,220 ft. of climbing)
We chose not to visit Turin (Torino) today. After several hard cycling days, we decided
we deserved a rest day to explore Asti. The city of Asti has a large historical center
with medieval architecture. Just 30km apart, Asti and Alba were fierce rivals in medieval times,
when they faced off against each other as feisty, independent strongholds
ruled over by feuding royal families. These days the two towns maintain a friendly rivalry –
workaday Asti sniffs at Alba's bourgeoning glamour – but are united by viticulture.
Asti produces the sparkling white Asti Spumante wine made from white muscat grapes.

ABOVE - Our hotel overlooks this park with a statue of Vittorio Emmanuelle II


ABOVE - the pedestrian zone of the old town, including Corso Alfieri,
the ancient road of the Roman city that runs through the entire historical center.
ABOVE - Comentina Tower and the baroque Palazzo Mazzetti
In Asti, you can come across lots of tower houses belonging to the noble families
along with medieval palaces that can be seen around the northwestern part of this town.
In the earlier times, Asti was known as the town of 100 towers out of which
quite a few of them still remain and the most prominent ones are Tower Dei Comentini
and the octagonal tower of Torre De Regibus along with the Torre Troyana.
ABOVE - Entrance to the Municipal Art Gallery

ABOVE and BELOW - Imposing Gothic Cathedral of the Assumption, the largest of Piedmont
Unfortunately, it was not open for interior viewing
BELOW RIGHT - Trojana Tower, the most representative of the medieval towers of Asti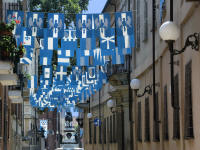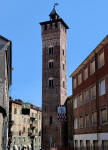 One of our favorite places was Piazza San Secondo. San Secondo is the patron saint of Asti
who was imprisoned in Torre Rossa along the western end of Corso Alfieri
dating back to the 1st century. He was beheaded where the Church of Collegiata
di San Secondo was built and dedicated in his honor.
Below - Eating at a restaurant just off Piazza San Secondo