Click on any picture below to see a larger version
9/07/2015 - Today was the third day of our Cyclomundo Bicycle Tour -
Challenging Piedmont: The Realm of Italian Legends
Alba — Asti (87.4 km/54.3 miles, 1,045 meters/3,425 ft. of climbing)
Today we cycled in the Province of Asti, a grape shaped territory that extends
between the hills of Monferrato and the land of Langhe around Alba.
The hills and vineyards of this region have been awarded the
prestigious UNESCO World Heritage recognition.
In addition to vineyards, we also cycled through The Rocchettoa Tanaro Natural Park
and Val Sarmassa Nature Reserve with hazelnut orchards and fields of sunflowers.

We started up immediately from Alba to the upper vineyards
We passed through many hilltowns along the way.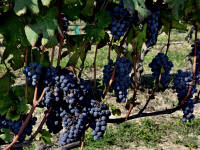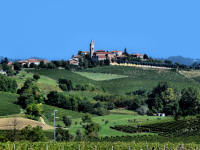 ABOVE and BELOW - The Montegrosso Cathedral
BELOW - In the hazelnut orchard. The Piemonte hazelnut or Tonda Gentile Trilobata, is
the best in Italy for confectionary use. It is especially good in nougat, cakes, macaroons, and Nutella!
BELOW - Cycling through a parco naturale.Love the shadows of all of the tree trunks.

Peak season for the sunflower bloom was July, but we found a few late bloomers.
BELOW - We figured out how our cycling route was created. Someone put dots on the
map of Piemonte for all of the hilltowns, then connected them.
Fortunately we were able to get water at the top!

The hotel in Asti gave us a bottle of Barbera, considered one of the most important Italian red wines.
BELOW - We found a restaurant, Il Convivio, that had a special four course vegetarian menu -
two appetizers, primo piatto and dolci. Judith is enjoying a wonderful glass of Barbera
with our second appetizer - torta of potatoes & leeks.
They have a different menu every day!