Click on any picture below to see a larger version
9/06/2015 - Today was the second day of our Cyclomundo Bicycle Tour -
Challenging Piedmont: The Realm of Italian Legends
Acqui Terme — Alba (93.6 km/58.2 miles, 1,795 meters/5,890 ft. of climbing)
Today we rode through the Langhe, an area known for decadent white truffles
and outstanding wines. Our route included three very challenging climbs.
The worst was the 6 kilometer 15% gradient climb up to San Donato!
Well, the best part of the day was the long downhill into Alba.
In all, another beautiful day of cycling.

ABOVE and BELOW - As we were biking through the lower vineyards,
Judith said 'Look at the vineyards at the top of the mountain. Aren't they spectacular?"
And then the GPS said "turn left onto Strada Nicola-Bogliota.
We have no idea what the gradient was, but it was nasty all the way to the upper vineyards.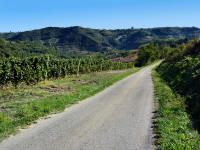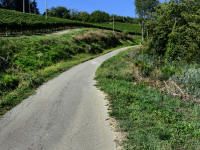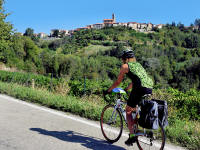 BELOW - Leaving Rocchetta Palafea and heading down to the lower vineyards
BELOW - White grapes - We passed several large wineries
and the fragrance was intoxicating!
ABOVE and BELOW - The never-ending climb to the upper vineyards
BELOW - Sanctuario Madonna Della Moretta in Alba
BELOW - Alba Cathedral
There are few more enticing destinations for gourmet travelers than Alba,
a picturesque town in the heart of Piedmont that's renowned world-wide for its
succulent white truffles, velvety red Barolo and Barbaresco wines and hazelnuts.