Click on any picture below to see a larger version
9/05/2015 - Today was the first day of our Cyclomundo Bicycle Tour -
Challenging Piedmont: The Realm of Italian Legends
Alessandria - Castellania - Acqui Terme (111.3 km/69.2 miles, 1,590 meters/5,220 ft. of climbing)
We started the day on the back roads to Castellania,
the hometown and resting place of cycling legend Fausto Coppi.
We stopped and visited his birthplace, now a museum, then followed in his tire tracks
around the country lanes where he learned to ride. We rode through the mountains,
and finally wound around to Acqui Terme. My GPS recorded 6000 feet of climbing!
We rode back up to one hilltown three times before we found the correct road.
A hilly ascent brought us to Novi Ligure, another prominent place from Coppi's history.
The surrounding vines produce the highly acclaimed Barbera and Dolcetto d'Acqui wines.

ABOVE and BELOW - At the Casa Coppi. Fausto Coppi was the dominant international cyclist
of the years each side of the Second World War. His successes earned him the title
Il Campionissimo, or champion of champions.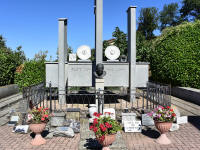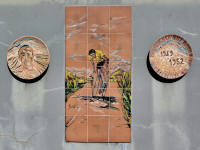 On the way through the mountains we saw no less than 30 Ferraris and Lamborghinis
(all with race numbers) ripping down a winding hill.
We have countless pics of all of the vineyards we cycled through.
And many pics of all the hilltowns we visited.
We walked into town for dinner and enjoyed the sights of Acqui Terme.
The hot, thermal waters of this area were discovered over two thousand one hundred and fifty years ago
by the Romans and their marauding partners in crime, the Ligurian Statielli.
Between the second century BC and the third century AD, many important structures
were completed in Acqui Terme: an amphitheater (no longer existing),
ancient baths (still can be visited as a historical ruin),
and the most important aqueduct in Piemonte,
a portion of which can still be seen on the outskirts of the city.