Click on any picture below to see a larger version
September 15, 2017 - Rainy Day Hike in the Karavanke Alps
The rain continues - no end in sight! We were originally planning a two day hike
with overnight in a high mountain hut, but due to weather (snow above 2000m
and thunderstorms Saturday) we moved to "plan B". Instead, the high mountain
guide led us on a killer one day hike to explore the Karavanke Alps.
We hiked up to a hut for a snack, then continued on a loop that took us into Austria,
then back to the hut for lunch. Would you like to come along on our hike?
In the not so distant past it was said that the Karavanke mountains were dividing
Slovenian people who were living south of the range from those who were living
within the Austrian state north of the range. Later, when political relations warmed,
it was said that the Karavanke mountains were connecting the German speaking
people north of the range with Slavic people south of it. And today,
luckily, all this political rhetoric is becoming more or less irrelevant.
ABOVE LEFT - 1536 meters (5040 feet up)
ABOVE MIDDLE - Tea with honey - I'm ready to get back out there. Photos on the wall
behind me show the area where we are in the winter. Lots of skiing.
ABOVE RIGHT - Onward to Austria!
ABOVE LEFT - Don't slip on those rocks!
ABOVE MIDDLE - Our guide, Sebastjan, assured us that we were having a
spiritual moment with nature. It sure looks like a long way down if I slip!
ABOVE RIGHT - Ooh, a nice grassy section! Behind us you can
see the trail we just crossed over a large rocky slide.
ABOVE LEFT - Sure glad we didn't miss this trail marker. Going up!!
ABOVE MIDDLE - After going down through the meadow and back up,
we are at our highest point in the hike - 1725m (5660 feet).
ABOVE RIGHT - Help - we're lost!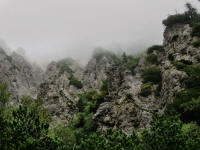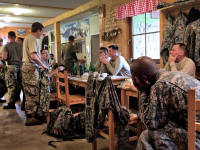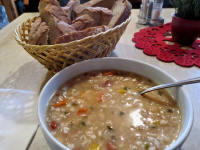 ABOVE LEFT - The mist lifted just a little to reveal the mountains where we were.
ABOVE MIDDLE - Back at the hut for lunch with about 50 members of the military.
Half were from a mountain unit of the Colorado National Guard who were there
training with the Slovenian Army mountain unit. The U.S. soldiers
said "the Slovenes kicked our butts on today's training hike."
ABOVE RIGHT - Hearty soup at the hut (beans, potatoes and vegetables).
It warmed us so that we were ready to head back out into the cold rain..ohyeah.
ABOVE LEFT - No worries - the ladder was quite sturdy
ABOVE RIGHT - Descending back down to the valley. End of a wonderful day!