Click on any picture below to see a larger version
September 12, 2017 - Krizna Jama (Krizna Cave)
Today the rain was coming down in torrents, so the planned hike was canceled and replaced
with "plan B" - another cave visit but very different from yesterday's.
Krizna Cave is a karst Cave - rivers run through it and water filters down
into it through the porous karst rock. The only lighting in this cave
was provided by our hand-held lamps.
ABOVE LEFT - "Plan B" today was a visit to Krizna Jama (Cave). Here we are ready to
hike to the cave after donning rubber boots and hand-held lights.
Among karst caves, Križna cave is known to the world due to it's underground lakes.

The elimination of carbonate from the water at rapids is more than ten times faster
compared to lake water. That leads to formation of dams which appear at spots
where rapids are located and causes lakes up to 7 meters in depth.
There are 22 lakes in the cave, which can be crossed by a boat, but if we also count in
the smaller lakes of Blatnikov rov, the number rises to 45. It is the only naturally preserved
tourist cave in Slovenia, so it contains no strong lighting or concrete pathways.
ABOVE LEFT - Our guide, Marko, pointing out indentations on the stalagmite worn
over the centuries by constant water dripping from the ceiling.
Since it was pouring outside, we watched it drip on the indentations.
ABOVE MIDDLE - A large stalactite hanging from the ceiling. Marko guaranteed
it wouldn't drop on us. The white color is limestone. The brown-red is iron.
ABOVE RIGHT - There are numerous lakes in this cavern. Upon reaching the first
lake, we precariously boarded an inflatable boat for a ride into the darkness.
ABOVE LEFT - Marko did a great job of paddling us around the lake.
ABOVE MIDDLE and RIGHT - Lunch today was very special - hosted by a
Slovenian couple in their home. Our hostess served a delicious vegetable soup,
homemade bread (baked in the ceramic oven that you see in the background)
and numerous salad/vegetable items, all grown in their garden.
She began preparing this food yesterday.
ABOVE LEFT - Our hostess bringing tea and coffee from her kitchen.
ABOVE MIDDLE - Dessert consisted of coconut, walnut and raisin potice
(Slovenian cake). We pretty much finished two platters of this delicious cake.
ABOVE RIGHT - Our four new Slovenian friends: Maja, our guide,
our host and hostess for today's lunch, and Boris, our driver.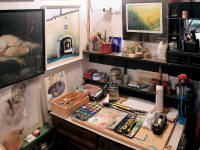 ABOVE - Our host is an artist and we visited his studio.