Click on any picture below to see a larger version
September 8, 2017 - Walk of Peace
Today we visited the town of Kobarid, best known for the aftermath of the WWI Battle
of Kobarid in October, 1917. The Charnel House was built on Gradic Hill near the
Church of St Anton with Stations of the Cross erected along the road. In 1938,
the Charnel House was opened by Benito Mussolini. It contains the remains of
7,014 known and unknown soldiers who were killed in WWI and moved here from
nearby cemeteries. We then hiked the "Walk of Peace", a 10 km trail that passes
historical, cultural and natural monuments. After the hike, we visited the Museum
which presents a wealth of information about WWI on the Isonzo (Soca) Front.
We also visited a cheese factory and museum that was celebrating its 60th anniversary.
A highlight was meeting one of the dignitaries who is the US Ambassador to Slovenia.
ABOVE LEFT - Crossing one of the many bridges over the Soča River
The beautiful turquoise water color is due to filtration through the karst rock.
ABOVE LEFT - The mountains above the Soča River are filled with trenches and
bunkers from WWI. This is a trench built into the hillside.
ABOVE MIDDLE - WWI bunker
ABOVE RIGHT - Large rocks that have tumbled down the mountain into the river.
ABOVE LEFT - Love the light shining through the trees. Slovenia is 50% forest!
ABOVE MIDDLE - Hiking through the canyon toward a waterfall
ABOVE RIGHT - The Veliki Kozjak waterfall is one of the most picturesque in Slovenia.
Here the 15 meter white water column carved an underground hall. Its bottom is
covered by a vast blue and green pool and its walls are reminiscent of karst caves
ABOVE - A look at the pool at the bottom of the waterfall.
ABOVE MIDDLE - To get to the Veliki Kozjak waterfall we had to hold onto a cable
so that we wouldn't slip off the narrow wooden walkway.
ABOVE RIGHT - We crossed several narrow wooden bridges that were
wet and slippery (and Judith says "scary")
ABOVE - End of the hike along the Soča River for today.
ABOVE MIDDLE - The original Napoleon Bridge was constructed here in 1750
and received its name when Napoleon's troops marched across it.
It was blown up on 24 May 1915 by retreating Austrian soldiers on the first day
after WWI was declared. Later Italians replaced it with a wooden bridge
then an iron one and finally this stone bridge.
ABOVE RIGHT - Statue in remembrance of Simon Gregorcic, a famous poet from Kobarid.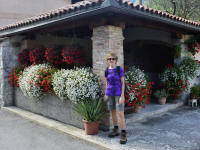 ABOVE - Lots of flowers around the town of Kobarid.
Of note - Kobarid is a peaceful village with a distinctive Italian character, but it also holds
a secret: it is the site of the greatest defeat of the Italian army during WWI.
This moment in history was well preserved in Hemingway's masterpiece "A Farewell to Arms."
Hemingway lived here for awhile and really loved this area.