Click on any picture below to see a larger version
September 7 2017 - Soča River Gorge
Today we transferred over Predel Pass in the Julian Alps to Italy and back
into Slovenia to Bovec. We visited the ski town of Kranjska Gora, then on to
the ski jumps at Planica. Finally we met our hiking guide in Trenta
for a hike along the Soča River Gorge.
ABOVE LEFT - View of the Julian Alps from Kranjska Gora
ABOVE MIDDLE - Flowers everywhere in Kranjska Gora
ABOVE RIGHT - Watching skiers practicing on the ski jumps in Planica.
The skier on the left jump is mid flight. Still missing my zoom lens.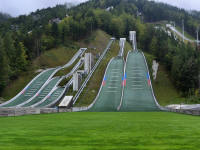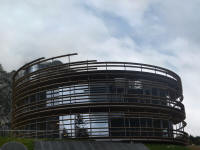 ABOVE LEFT - Just a few of the different jumps. We watched very young kids on the smaller jumps.
ABOVE MIDDLE - This is an indoor ski practice center!
ABOVE RIGHT - Clouds are clearing, but rain is imminent.
ABOVE LEFT - Beautiful views in every direction.
ABOVE MIDDLE - One of many bridges we crossed on the Soča River hike.
ABOVE RIGHT - Nancy, Carol Marty (our tour leader) and I needed a rest.
ABOVE - It poured for about half of our hike. Glad to use the rain gear we packed.
ABOVE MIDDLE - Moss covered rocks along this section of trail. The Soča Trail
(Soska Pot) is the first nature trail to be created in Triglav National Park.
The entire trail is 25 km long.
ABOVE RIGHT - Another beautiful view of the mountains at the end of our hike.