Click on any picture below to see a larger version
September 5, 2017 - Lake Bohinj, the largest permanent natural lake in Slovenia.
It is of glacial-tectonic origins and has approximately 4 km in length and a good
kilometer in width. On the west side a cold stream from Savica waterfall flows into it,
and on the east side (under a bridge by the church of St. John) Jezernica river exits the lake.
It lies at the end of a closed valley, which is surrounded by steep wooded hills from
three sides, and on the east it is 'guarded' by rocky mounds of Studor and Rudnica.
Today we walked around the north side of the lake. Then we hiked up a few miles
to the Savica Waterfall (Slap Savica) in Triglav National Park. Then, of course,
we enjoyed a great lunch at end of the hike in a mountain restaurant.
We certainly are eating well on this trip!
ABOVE LEFT - Lake Bohinj with the Triglav Mountains behind. This is the largest
natural lake in Slovenia and the water is a crystal clear turquoise color.
ABOVE MIDDLE - Group photo at Lake Bohinj
ABOVE RIGHT - Another view from our walk around the lake.
ABOVE LEFT - We walked 2-3 miles along the north edge of the lake to get to this point.
This is the view back towards the starting point.
ABOVE MIDDLE - This stretch of the trail is designated as "Hansel & Gretel" hike for children.
Judith thought she needed a rest on one of these child-sized benches.
Periodically along the trail were footprints of various animals and a box with the animal's picture.
Children were supposed to guess what animal. This was planned as a great way
to encourage children to hike, enjoy the environment and learn about wildlife.
ABOVE RIGHT - Good thing there was a cairn marking the path!
ABOVE LEFT - Our guide, Bojan, filling his water bottle from this fresh cold water spring.
ABOVE MIDDLE - Up the valley beyond the lake is Bohinj's final treat, a waterfall
called Slap Savica. It was a strenuous uphill with 553 steps to see the cascade.
ABOVE RIGHT - Finally made it upall the steps to see the waterfall, and it was definitely worth the effort!
ABOVE - Slap Savica is the most visited waterfall in Slovenia. The large fall is 78m,
and the smaller one is 25m. It permanently has water and only rarely has it run dry.
It is supplied by a lake 500m above, and the water flows through hidden
underground passages and lakes in two separate streams.
ABOVE - Ready for lunch after a hard hike.
ABOVE LEFT - There is a long, long myth about this chamois with the golden horns (Zlatorog).
Too long to tell here but if you really want to know, you can "google it".
It is a recurring symbol in the Julian Alps.
ABOVE MIDDLE - A monument to the four Bohinj area mountaineers who
first summited Mount Triglav on August 26, 1778.
ABOVE RIGHT - The main landmark in the village of Ribcev Laz is the lakefront church of St. John the Baptist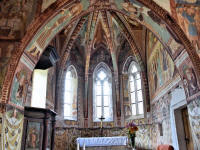 ABOVE - Frescoed interior of the church of St. John the Baptist