Click on any picture below to see a larger version
We flew to Paris, then transferred to our flight to Ljubljana, Slovenia.
We arrived mid-afternoon and after getting settled into our hotel,
we immediately began exploring Ljubljana. Lots of interesting history and great architecture.
Sophisticated Ljubljana was the obvious choice for capital city when Slovenia
achieved independence in 1991. The city has always been a bridge between the
German, Latin, and Slav cultures due to its geographic location. This cultural
diversity is visible in the complex architecture along the river canals of the city center.
ABOVE LEFT - View from the balcony of our hotel room. We'll be walking up to the castle tomorrow.
ABOVE MIDDLE and RIGHT - Colorful tiles around the windows of this building in the old town.
ABOVE - Preseren Square (Presernov Trg) - the heart of Old Town -
named for France Preseren, Slovenia's greatest poet, and the Triple Bridge
(Tromostovje) which crosses the Ljubljanica River.
ABOVE LEFT - This area is really lively and a great "people-watching" spot.
There are endless cafes and restaurants lining the river.
ABOVE RIGHT - River view of the Central Market (Trznica), towers of St. Nicholas Cathedral
and Ljubljana Castle (Ljubljanski Grad) at the top of the hill in the distance.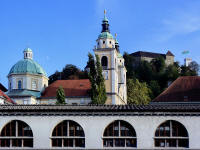 ABOVE - Another view of the market, cathedral and castle.