Click on any picture below to see a larger version from our French Alpes ride
Tuesday, August 6, 2002 -Albertville to Annecy

It rained almost the entire day today.
We were fortunate to get a few pictures during the rare holes of blue in the sky.
The climb today was the Col De Frene with the option of the Cret De Chatillon.

There were several of us that decided we were very smart to ride in the van today instead of bicycling.
We all wanted to conquer the famous climbs and would have biked them in rain, snow, sleet, or hail,
but we just couldn't make today's route sound enjoyable in the downpour.
And after viewing the route and conditions we knew we made a good choice.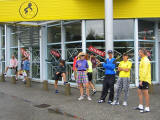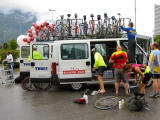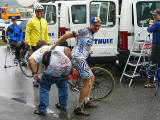 The day was certainly not a total loss though. We visited a great bike store and shopped till we dropped.
Judith and I practically bought the store out. What a find - we were there for two hours!
We stopped again in St. Pierre D'Albigny for a tour of the town and a café stop.
We finally arrived in Annecy early afternoon and immediately began scouting out the town.
The so-called "Venice of Savoie": Annecy is a delightful town in Haute-Savoie.
Annecy's origins date back to 3000 BC. Summer and winter alike, this town and its region enchant tourists
thanks to its unique charm, its exceptional hours of sunshine and its long kilometers of ski trails.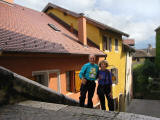 We found a great little restaurant in Annecy. The waitress spoke very little English but we were able to convey in French that we were vegetarian and wanted to know if the Fondue de Savoyard (the specialty of the region) was without meat. Fortunately it was.
The fondue was very unusual with several cheeses from the local area in a sauce that was indescribable. We had to continuously stir it to keep everything mixed together. There was no way we could finish it all. It was preceded by possibly the largest salad we've ever seen. It was so beautiful we hated to eat it – fresh mushrooms, black olives, ripe tomatoes, shredded carrots, artichoke hearts, wonderful butter lettuce and a superb dressing.
The Palais de l'Ile is located in the middle of the Thiou (the famous canal in Annecy), cannot be missed.
It is probably the most characteristic monument of the city.
Due to its triangular shape, it reminds the visitor of the prow of a galley anchored in the river.