Click on any picture below to see a larger version from our French Alpes ride
Monday, August 5, 2002 -Alpe D'Huez to Albertville
85 miles and 10000 feet of climbing today.  Have you noticed a pattern here?
T

he first climb of the day was the Col Du Glandon.  
The

 

vistas were simply magnificent.  We'll let the photos speak for themselves.
The weather cooperated and gave us just enough sun.
The second climb was up to Croix De Fer (Iron Cross).
We were blasted with sand by an unexpected high wind at the top, and we decided
to cut the pictures short. We checked out the café, purchased patches (souvenirs of the climb),
ate lunch, and headed back to the Col Du Glandon and down the mountain.
The descent was fantastic - 35 miles of downhill through picturesque villages.
There were long stretches of just flying low and only touching the brakes for the towns.
Why do they keep interrupting the fun with intersections and stop signs?
Oh, I remember, other people like to live here.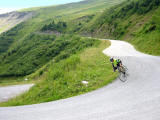 At the bottom, we stopped for another snack and energy fill up - then on to the next mountain.
The Col de la Madeleine is a 5000-foot climb with grades of 7.5 to 10 percent.
It sounds crazy but everyone thought it was much easier than we expected.

The worst part for us was the loss of time resulting from an extra hour at the Croix De Fer.
It put us behind schedule and as we approached the top of the Madeleine, we watched a storm move in and
envelop the mountaintop. For the last 2K visibility was close to zero. It was exciting though.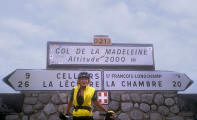 After checking into the hotel, we headed for the Jacuzzi.
As seven of us piled into a rather small hot tub, water overflowed and the party started.
It was musical chairs from the hot tub to the sauna to the cold shower and back to the Jacuzzi.

Dinner was at one of the hotel restaurants and was essentially all of the Italian food that you could eat.
Calories,schmallories - bring on the pasta!!